Children of Alcoholic Dependent Parents Engagement (CAPE)
Working together to support children affected by parental alcohol misuse
Lots of adults drink alcohol, but in some families the adult's drinking can make things difficult at home and can cause problems and worries for their children.
With funding from the Department of Health and Social Care, CAPE is a Children's Society project upskilling workers in contact with Children of Alcohol Dependent Parents (CADeP). 
CAPE is a mix of digital resources, awareness raising sessions and more formalised training events. 
Workshops will cover:
Why we need to address parental alcohol misuse
The impact of parental alcohol misuse upon children and families
Having the conversation - Judgement & Fear
Risk, Resilience & Protective Factors
Models of Support
Practice resources
Cost to participants: Free (please note cancellation policy). 
Working with you
CAPE equips you with knowledge and confidence, ensuring that there is no 'wrong door' and that a child or young person will always receive an appropriate response when they raise concerns.Whether you're looking for tools and publications or videos and best practice – CAPE provides a range of useful online resources providing everything you need to know to help you in your day-to-day role. www.childrenssociety.org.uk/CAPE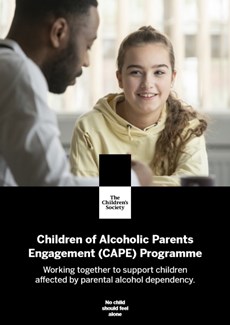 Through our workshops and training events, CAPE provides more in-depth awareness and understanding with evidence-based interventions helping and ensuring early identification and support. These events will create a hub of shareable knowledge for anyone working with young people affected by parental alcohol misuse.
For more information on the CAPE project and resources, please contact:
Cancellation
ESCB Charging and Cancellation policy has been updated, please read before you book your course.
Please note that late notice cancellations and non-attendance at courses will incur a charge, you will need to complete payment information upon booking the course, this information will only be used if you cancel your place with less than 15 working days' notice or do not attend on the day.
---